The Winter Update (version 1.8.0) was released on January 9th, 2014 to celebrate the game's success from 2013. This is preceeded by the Holiday Update 2013 and followed by the Urban Update.
New Features
Weapons
Winter Ghost Rifle (a scoped weapon with moderate damage, excellent range, excellent accuracy and moderate agility)
Dual Grenade Pistols (a pair of grenade pistols with great damage, moderate range, poor accuracy and excellent agility)
Zap Gun (a skill reducing weapon (was once not a skill reducing weapon) with great damage, excellent range, excellent accuracy and moderate agility)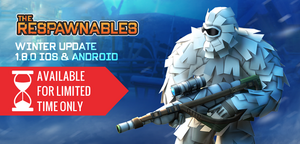 Bundles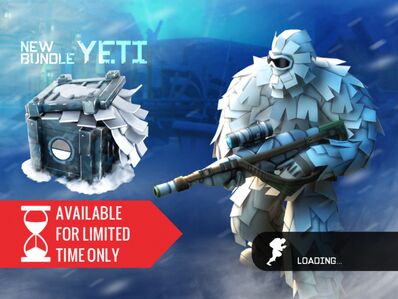 Armors
Maps
Elite Enemies
Others
Level cap is raised to level 50
50 new missions are added in the update.
Trivia
The Yeti bundle is actually a White Ghillie Suit used for snipers in arctic situations.
The Reconversion Update must be obtained before the Winter Update since it will cause a bug for some users to not have the bundle.
Winter Update no longer exists since the game has been updated to the Urban Update rather then being reconverted to its original state. Note to all players to open the game before starting the update as this may cause data corruption.
The Winter Update saw a change in background on the home screen, to the Nocturnal Snowfall map theme.
Gallery
Ad blocker interference detected!
Wikia is a free-to-use site that makes money from advertising. We have a modified experience for viewers using ad blockers

Wikia is not accessible if you've made further modifications. Remove the custom ad blocker rule(s) and the page will load as expected.