The Urban Ops Beret is the 30th head armor in the game.It can be bought through a bundle (Urban Ops Pack). Buying the bundle costs $11.99

. It gives the player an additional 10% accuracy.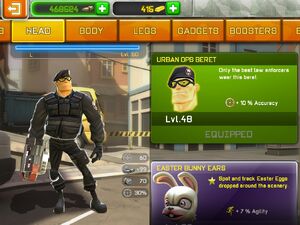 Appearance
Edit
This has a beret just like the Green Beret, only that it is black, and has no camouflage. The beret has a badge with a skull on it, covering the black hair hidden underneath it. The glasses finishes the setting.
This is currently the second head armor that gives the highest accuracy (10% accuracy), the first one being the Spec Ops Helmet.
It is part of the Urban Ops Equipment that can be bought through the Urban Ops Pack bundle.
Ad blocker interference detected!
Wikia is a free-to-use site that makes money from advertising. We have a modified experience for viewers using ad blockers

Wikia is not accessible if you've made further modifications. Remove the custom ad blocker rule(s) and the page will load as expected.