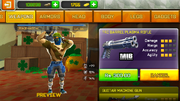 Having trouble with a
Tri Barrel Plasma Rifle
user? This page will help.
What is the Tri Barrel Plasma Rifle?
Edit
The odd weapon that is very rare to find in a match, the
Tri Barrel Plasma Rifle
is one of the least popular weapons in respawnables. It has good damage, a quite large blast radius, but with a slow rate of fire and a long reloading time. It can be bought at the cost of
$9.99

separately.
What to Do
Edit
Run around the user to avoid the bullets.
Attack from range, and take cover. The bullets are fairly slow at long distance, giving chances to run.
Ambush them.
Wear the Ghostbusters Jacket or the A.S.P. Armor as this weapon is energy-based.

Equip the Biker Pants for even more protection. It reduces the damage done by shotguns by 20%. With the Ghostbusters Jacket, you have 70% total protection.
Leprechaun's Hat reduces 30% damage of this weapon.

Combined with the other two said gear will provide 100% damage reduction against this weapon: Which means no damage will be done to you! Even S.F. Headset won't help your opponent now.

Stun them. They can't do anything later.
If you find that they are using Spotter, do not get close to them. In fact, only attack when he is busy with other player.
What NOT to Do
Edit
Run straight at the user.
Standing still and camping.
What to Wear
Edit
Head: : Leprechaun's Hat, or any Health/Agility head part.
Body:: Ghostbusters Jacket or any Health/Agility body part.
Legs:: Biker Pants, or any Health/Agility legs part.
Armor: A.S.P. Armor
What Weapons to Use
Edit
Close Range:: Any of the Shotguns, Blunderbuss
Medium Range:: Revolver, Hunter Shotgun, Thumper
Long Range: : Any sniper, Battle Ram, Howitzer Gun
Ad blocker interference detected!
Wikia is a free-to-use site that makes money from advertising. We have a modified experience for viewers using ad blockers

Wikia is not accessible if you've made further modifications. Remove the custom ad blocker rule(s) and the page will load as expected.