The Trapper Hat is the 24th head armor in the game. It is unlocked on level 26. It costs 40,000

 and adds 5% agility to the player.
Description
Edit
The Trapper Hat is a gray snow hat meant to be used in arctic environments and as part of the Snow Equipment. Yellow snow goggles are also added to the armor.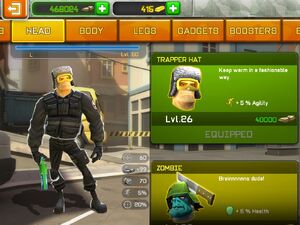 It is a part of the Snow Equipment along with the Snow Coat and Snow Pants.
Some intermediate players use this in multiplayer as part of their agility set.
Blizzard (the elite who wields the Siege Cannon) always use this along with rest of the Snow Equipment while he's battling.
This is the most effective and alternative way for Respawnables players to gain 5% agility (before the Events arrived).
The kind of snow cap used in this head is called an Ushanka.
Ad blocker interference detected!
Wikia is a free-to-use site that makes money from advertising. We have a modified experience for viewers using ad blockers

Wikia is not accessible if you've made further modifications. Remove the custom ad blocker rule(s) and the page will load as expected.