"
The best weapons to prove your skills.
"

— Game Descriptions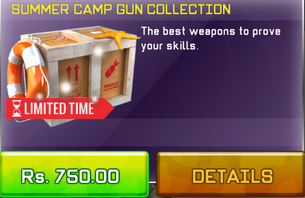 Are you in need of a great and efficient weapon for every trials of
Summer Camp 2
? Well then, for only
$11.99

, you will be ready for the challenges in no time!
Did you miss the Chinese New Year (Event)? The Easter Egg Hunt event as well ? Even the second one?! This bundle brought back the grand prizes of the three events. After all, all of these weapons are great help for completing the trials of the Summer Camp 2.
This is the second bundle to bring back the Hunter Rifle to the game, the first being the Warrior Bunny Kit, although this bundle doesn't include the skin version of it, though.
The weapons can be bought separately in every week for $5.99 each during trial 1,2 and 3.
This is the second bundle to have more then one event weapon in them.