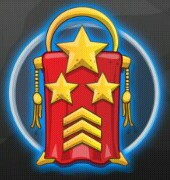 Sergeant Major is one of the 28 Achievements in The Respawnables.
The description says: Reach level 30
Obviously this achievement is earned after reaching level 30. The reward for this Achievement are 25 Score Points  (when achieved during a match).
Tips & Tricks
The best way to level up is the Multiplayer Mode Free For All, since it's provides the most experience points - if being first or second place. Another way, more pleasureable for lower levels is completing Missions .
Trivia
This achievement shows the maximum level when the level cap was 30.
Sergeant Major is the last non-commissioned officer (NCO) rank in the US Army. The rank Sergeant Major is also used in other countries under different titles, like Stabsfeldwebel for Germany.
Ad blocker interference detected!
Wikia is a free-to-use site that makes money from advertising. We have a modified experience for viewers using ad blockers

Wikia is not accessible if you've made further modifications. Remove the custom ad blocker rule(s) and the page will load as expected.