"
Make the roads your territory with this legendary biker pack.
"

— Game Description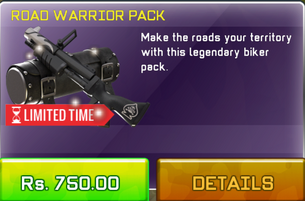 Road Warrior Pack
is a limited bundle that was released during
Summer Camp 2
. It was purchasable for
$11.99

.
Description
Edit
"Make the roads your territory with this legendary biker pack."
For Summer Camp 2, this bundle proved to be a great help. All of its contents are made for the event. 20% might be small for some, but it may be your lifesaver! It may even ease your way to the great victory during the event. Thus, a good bundle to have, for the event and the future releases.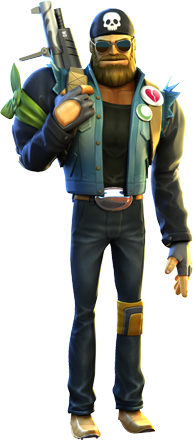 This bundle brought the first gear to resist damage caused by Snipers.
This bundle was on a few pictures before the bundle was out, so people knew about it before.
This is the third bundle to have an event weapon with a skin, The first being the Warrior Bunny Kit
Oddly, in many (even in-game) images the Road Warrior is seen as laterally inverted. This can easily be observed by the position of the heart badge and the strap on the Road Warrior's vest
Wearing the head, body, and legs armor included in the pack makes you look like Boris the Animal from the movie Men In Black 3. (When Agent J travels in time to the 1960s, July 15 1969, to be precise)
The bundle returned after the Winter Camp 2016 ended.