The Riot Helmet is the 20th head armor in the game. It costs 25,000

. Unlocked at level 22, it gives a 5% health boost.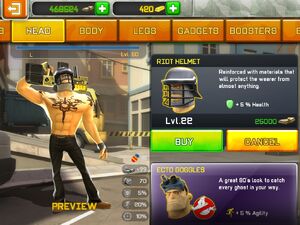 Appearance
Edit
A big, gray helmet with a sort of visor hanging from the front that has thick metal bars on it. Underneath the helmet is a grey ski mask that isn't joined at the eyes.
Thinking of purchasing this helmet for skill boosting? The Combat Helmet may be a better choice for you as it is cheaper than the Riot Helmet.
This helmet is worn by one of the Elite Enemies, Mad Cop.
This is the only Riot themed piece that is not part of the Rioter Equipment.
The ski mask underneath the protective cage is the same exact skin as the Rioteer Ski Mask, with a darker tone in color.
Ad blocker interference detected!
Wikia is a free-to-use site that makes money from advertising. We have a modified experience for viewers using ad blockers

Wikia is not accessible if you've made further modifications. Remove the custom ad blocker rule(s) and the page will load as expected.