"
Show your authority on the battlefield!
"

— Game Descriptions
The Referee Equipment is a bundle introduced in the Soccer Madness (Event) that costs $24.99

.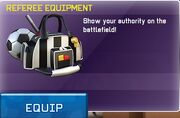 It features a new single handgun: an energy hybrid of its kind. Besides that, this bundle includes some accuracy boosts and speed bonus when you are using a single handgun weapon.
Plus, you shall resist those stuns, and destroy your opponents using the last thing they'd expect: a Soccer Ball.
This is the third bundle to boost single handguns stats.
This is the fourth most expensive bundle in the game.
The bundle made a return at a discount during the Black Friday Sale 2016, at the price of $11.99 .
The Referee T-Shirt is good at countering Stun Grenades and MIB Neuralyzer as your movement will not be affected.