The Private Pants (Brown) is the 1st legs armor in the game. It is given to new players for free. However, it does not boost any stats.
Appearance
Edit
It has a pair of brown pants with a brown pocket wrapped around the left leg. It also has a pair of brown boots.
It is the first legs armor in the game.
The Private Pants (Brown) and Private Pants (Green) are the only legs armor that boosts no stats. They are also both Private Pants.
Rex (the elite who wields the Howitzer Gun and comes to your missions in level 30-33) uses this along with the Vest and Veteran .
Mike Hunter sometimes wears this in battle.
Its appearance is very similar to the Veteran Pants.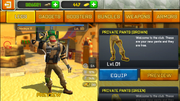 Ad blocker interference detected!
Wikia is a free-to-use site that makes money from advertising. We have a modified experience for viewers using ad blockers

Wikia is not accessible if you've made further modifications. Remove the custom ad blocker rule(s) and the page will load as expected.