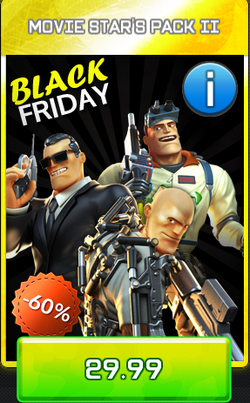 The
Movie Star's Pack 2 
is a deal only released as part of the Black Friday 2014 Sale. Similar to the
Movie Star's Pack
, this pack contains items that are based on from the movies Men in Black, Ghostbusters, and Elysium. In fact, all of the contents are the same as the first pack. Purchasing the pack costs
$29.99

, but you will be able to save 60% of the overall price because of this pack.
It is similar to the Movie Star's Pack, both containing the same items.
The first pack was a bundle while this pack is a deal, which is different.
This pack has the Noisy Cricket and Chemrail added to the deal which was earlier not available for a reduction.
See also
Edit