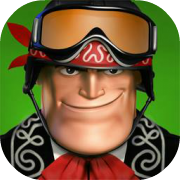 The Mexican Fiesta event was released on 10th of September 2015, and is in correlation with Día de Muertos, or Day of the Dead.
Update Changes
Edit
New event!
New weapons!
New armors!
New bundles!
Returning gear: Mexico (Shirt)
Sandtown has changed to Fiesta Town, with a new mariachi themed opening and closing music.
The Revolver is now unlockable at level 15.
The home screen was changed, featuring the Fiesta Town, with a new mariachi themed background music.
3.3.0 - Original Update Released.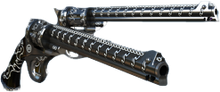 3.3.1 - Bugs/Glitches fix, Tier 14 changed.
3.3.2 - Crash issue on iOS 9 fixed.
Description
Edit
No time for a siesta, we are having a fiesta!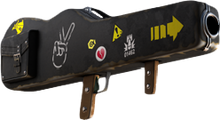 Join the Mexican Fiesta event and win tons of cash, gold, gadgets as well as new and event-exclusive items for FREE!
- Freedom Revolver: this long classic MX revolver will get you plenty of kills to improve your skills.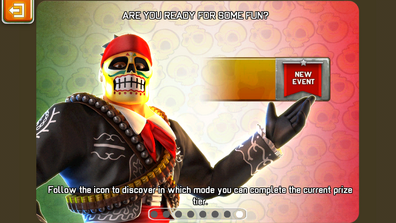 - Rocket Guitar Case: a camouflaged rocket launcher is every bandido's dream MX weapon. 
- Mexican wrestler masks: are you a Rudo or a Técnico? These four MX masks will help you excel in the event the Mexican way. 
Wear the Black Charro Gear and party in style. This bundle will make you a lot deadlier when carrying MX weapons: +50% plus damage, +30% faster reload and +7% extra speed! In addition, you can get the exclusive Dual Freedom Revolvers, the official Charro's MX weapon. Get it now, it's purchasable for a limited time only! 
Want a tip? Get the MX Pack and skip 3 tiers! This pack contains three lucha libre masks and the exclusive Armed Guitar Case, an MX heavy machine gun hidden in a guitar case…every mariachi's weapon of choice. 
Join the party at the Fiesta Town! This map features Mexican-inspired props, party effects and mariachi-themed music, all you need to get in the mood for a fiesta!
Mexico's football T-shirt is back just for the event! Get it now while stocks last!
Loading Pages
Edit