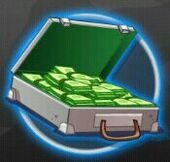 Making a profit is one of 28 Achievements in The Respawnables.
The description says: Get 100000 Cash
Obviously this achievement is earned after collecting 100,000

 The reward for this Achievement 25 Score Points  (when achieved during a match).
Tips & Tricks
The best way to level up is the Multiplayer Mode Free For All, since it's provides the most cash  - if being first or second place, 1001 cash on rank 1, a little more than 900 cash on rank 2.
Another way, more pleasureable for lower levels is completing Missions .
Trivia
Ad blocker interference detected!
Wikia is a free-to-use site that makes money from advertising. We have a modified experience for viewers using ad blockers

Wikia is not accessible if you've made further modifications. Remove the custom ad blocker rule(s) and the page will load as expected.