The MIB Pants is the 16th Legs in the game that was released during the Movie Update. It provides 5% agility. It is based on the American Comic Science Fiction Action Spy Movie Men in Black.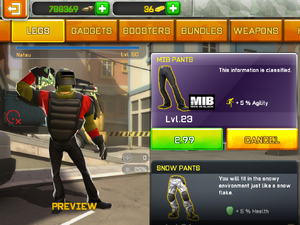 Appearance
Edit
This pair of formal pants looks identical to the Black Suit Pants, only that this pair of pants have a darker tone of black. It also has a black belt around the waist and pair of black leather shoes.
Ad blocker interference detected!
Wikia is a free-to-use site that makes money from advertising. We have a modified experience for viewers using ad blockers

Wikia is not accessible if you've made further modifications. Remove the custom ad blocker rule(s) and the page will load as expected.