This is the page where the strategies for countering the Little Italy are.
What is the Little Italy?
The Little Italy is a machine gun that costs 40 gold. It has 30 bullets in its clip and can be upgraded to 45 bullets. It could be bought for 30 gold during a sale.
Learn more about it here.
What to Do
Stagger left and right and run at the opposite direction of the shots to avoid them.
What NOT to Do
What to Wear
Head: Any Head Armor that has 5% Health or more.
Body: Any Body Armor that has 5% Health or more.
Legs: Any Legs Armor that has 5% Health or more.
What Weapons to Use
Close Range: Any Shotgun.
Medium Range: Revolver, Guitar Machine Gun, Dual Rookie Machine Guns.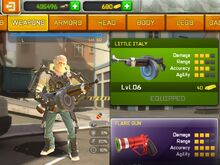 Long Range: Any long range weapon.
Ad blocker interference detected!
Wikia is a free-to-use site that makes money from advertising. We have a modified experience for viewers using ad blockers

Wikia is not accessible if you've made further modifications. Remove the custom ad blocker rule(s) and the page will load as expected.