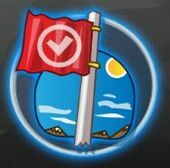 Lead to victory! is one of 28 Achievements in The Respawnables.
The description says: Finish first in a winning team in TeamVS
This achievement is earned after winning one TeamVS matche in first place, finishing the match as second place will count as failure.
The reward for this Achievement are 10 Score Points.
Tips & Tricks
You will need to cooperate with your team mates in order to win the Match. The winning Team will be the one that collects the most team Points during the match. Team Points are earned by collecting Medals dropped by killed enemies. Enemy players leave a Medal after being killed.
Coming in first doesn't necessarily mean that your team is going to be the victor. You may very well come in first for your team, and still lose to the opposition.
Ad blocker interference detected!
Wikia is a free-to-use site that makes money from advertising. We have a modified experience for viewers using ad blockers

Wikia is not accessible if you've made further modifications. Remove the custom ad blocker rule(s) and the page will load as expected.