The 
High School Vampire
is the 18th head armor available and is unlocked at level 18. Providing a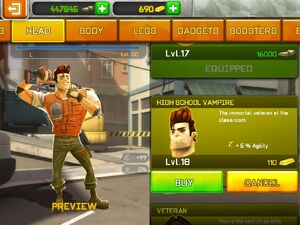 5% agility boost, it costs
110

.
Appearance
Edit
This vampire has a smug look on his face, his fangs are clearly visible. His red hair has been combed up, giving him a sleek appearance.
Bronco wears this into combat along with the Black Suit Vest and Black Suit Pants and on the rare occasions that he appears. (Once every 5 matches in Missions)
It is not recommended to buy this head armour for it's stats as the Trapper Hat is cheaper and provides the same amount of agility, costing only 40,000 cash.
This head is a reference to Edward in the movie Twilight.
Ad blocker interference detected!
Wikia is a free-to-use site that makes money from advertising. We have a modified experience for viewers using ad blockers

Wikia is not accessible if you've made further modifications. Remove the custom ad blocker rule(s) and the page will load as expected.