This page talks about the second Hand Grenade Fest. For the first one, see Hand Grenade Fest 1. For the third one, see Hand Grenade Fest 3

The Hand Grenade Fest 2 is an event which was released on the 17th November 2014 and is currently EXPIRED. The game files were already available before but the actual start of the event was later. The event is the same as the first Hand Grenade Fest, the only differences are the amount and prices of tiers (1st: 8 and 2nd: 14) and the total amount of Grenade Kills required (1st: 1040 kills, 2nd: 507 kills).
The objective is the same as the first, to kill enemies with grenades, including the Hand Grenade, Super Grenade, Halloween Grenade, Easter Grenade, Super Easter Grenade and Ultra Grenade. A kill with Death From Below counts too. Players complete tiers to win prizes, including the exclusive event weapon the Thumper, a Grenade launcher packed with powerful damage.
Tier
Prize
Grenade Kills Required
1
25x Hand Grenades
2 Grenade Kills
2
25x Super Grenades
5 Grenade Kills
3
8,000
10 Grenade Kills
4
2 x Ultra Grenades
15 Grenade Kills
5
30
20 Grenade Kills
6

New Flaming Hot 

Howitzer Gun

 Skin

25 Grenade Kills
7
15,000
30 Grenade Kills
8
Anti-Explosive Pants
35 Grenade Kills
9
75
40 Grenade Kills
10
Anti-Explosive Vest
45 Grenade Kills
11
35,000
55 Grenade Kills
12
Anti-Explosive Mask
65 Grenade Kills
13
200
75 Grenade Kills
14
Thumper
85 Grenade Kills
Total
507 Grenade Kills
This is the Seventh event that was released in the game.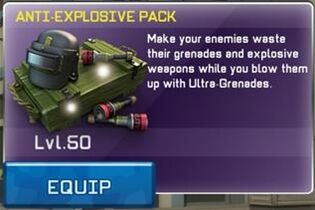 The Hand Grenade Fest 2 is considered to be easier than Hand Grenade fest 1 due to the fact that fewer kills are required.
Purchasing the Anti-Explosives bundle (or if you already have the equipment) will skip tiers 8, 10, and 12

Additionally, if you already have the Thumper then tier 14 (last tier) will be skipped.

Many people used the Stake Launcher/Dual Stake Launchers along with Hand Grenades in this festival as it is the best way to obtain grenade kills.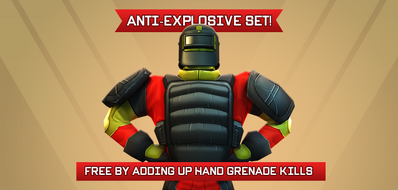 This is the first event that made a sequel return.
For some reason, you cannot achieve grenade kills using Energy Grenades, even though they are still grenades.
Exact same prizes as the first one but less grenade kills required.
This is the first event that made a sequel return in the same year.