The Green Beret is the 5th head clothing item available and the 1st premium head clothing. Unlocked at level 4, it costs 50

, giving you a 5% accuracy boost once worn.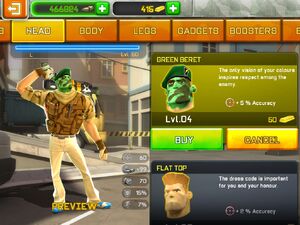 Appearance

Edit
This beret comes in two colours, the predominant colour green and the colour brown. A cap completes the outfit, a yellow lightning bolt enclosed within a black box with a white outline being its logo. The head is probably use to camouflage in places which mostly have green in them (Example: Jungles, Forests).
It is a part of the Starter Box and Starter Pack.
This is the first head armor that goes into two different IAP packs.
The Urban Ops Beret is basically a modification over the Green Beret
The name of this head armor may be a reference to the real life US military Green Beret.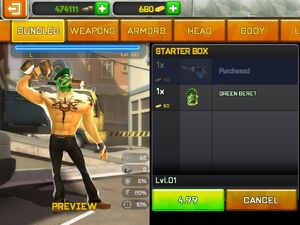 Ad blocker interference detected!
Wikia is a free-to-use site that makes money from advertising. We have a modified experience for viewers using ad blockers

Wikia is not accessible if you've made further modifications. Remove the custom ad blocker rule(s) and the page will load as expected.