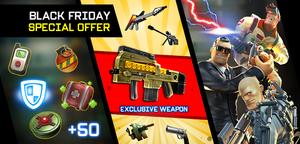 The
Gadgets Madness Pack
is one of the bundles released temporarily as part of the Black Friday 2013 Special Offers. Purchasing the bundle will grant the player a great number of some gadgets. Like all Black Friday bundles, this is currently unavailable.
It is the only bundle that contains only gadgets.
It is one of the few Bundles with no descriptions.
It only can be purchased during Black Friday 2013.