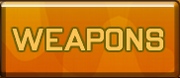 Weapons are the most essential things in Respawnables: they are needed to deal damage to your opponents, eventually leading to their imminent deaths. Respawnables provides a variety of weapons to cater to everyone's personal choice: from classic weapons like the Shotgun and Revolver, to fictional weapons like the Proton Gun, Chemrail and the Noisy Cricket. Learn all about them here.
Firing Types
Before reading this, it is recommended that you read about the two firing types that Respawnables has, such as you have a better understanding of the terms, which will be used often in the wiki. Bear in mind, that single shot weapons deal out more damage for less Accuracy and clip size, while automatic shot weapons deal less damage for more Accuracy and clip size.
And there are also many types of weapons. They are held differently, have different amounts of ammo and different damage. They are:
Now lets get started. Click or tap on the picture or the link below the picture and read more about it.
---
---
---
---
---
Weapons Table
Find out a Complete Table on Weapons : here.
Weapon Guides
Check out these pages for the guides of every weapon in the game! From how to use them efficiently, to how to counter every single one of them!
Quick Weapon Index