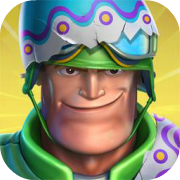 The Easter Holiday Update of 2015 is an update released on 20th of March. The update includes an event (which is currently EXPIRED) which is like a remake of the original Easter Egg Hunt, except it has more features and triple the requirements. This event brings back the Hunter Rifle, which can be bought from the Warrior Bunny Kit for $11.99

.
This event was hard but a worth event. After you are done with the tiers, you can get 1

for every other bunny you kill with the Hunter Rifle or the Hunter Shotgun.
New Features Since Easter Egg Hunt 2014
Edit
Triple egg may be dropped upon death, but it is very rare