This is the page where you can learn more on how to counter the weapon named Dual Energy Pistols.
What Are the Dual Energy Pistols?
The Dual Energy Pistols are an energy-based weapon released during the Holiday Update (2014). It is part of the Cyber Ninja Gear bundle and could only be obtained by purchasing with real currency, at the cost of $9.99

. This weapon provides excellent damage, moderate range, great accuracy, and excellent agility. Basically almost like a Dual Pistols, with the same clip size and fire rate but with a much damaging power.
More about it here
What to Do
Attack at mid range to long range. This weapon is very bad at mid range despite being very powerful at close ranged combats.
Use powerful Single Shot weapons.
Wear either the Ghostbusters Jacket or the A.S.P. Armor to reduce the incoming damage, giving you some extra time to take them out. Although, the weapon's fire rate might overcome the resistance if you are not careful/skillful.
Ambush them using the Shotguns.
Stun them.
Be sure to strafe left-and-right a lot and fast.
Stay behind them while circling them.
The user usually will run towards you. So, be sure to start shooting while backing away from them.
Use Medikit.
What NOT to Do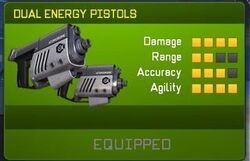 Engage a close quarter combat.
Run STRAIGHT towards them.
Stand still.
Attack while injured.
What to Wear
Head: any agility gear, at least 5%.
Body: Ghostbusters Jacket or anything that boosts at least 5% agility.
Legs: Any gear that boosts agility by at least 5%.
Armor: A.S.P. Armor (reduces 70% of the damage).
What Weapons to Use
Close Range: Any shotgun, Blunderbuss, Flare Gun.
Medium Range: Revolver, Grenade Launcher, Chemrail.
Long Range: Howitzer Gun, Sniper, Battle Ram, Thumper, Dragon's Breath Cannon.
Ad blocker interference detected!
Wikia is a free-to-use site that makes money from advertising. We have a modified experience for viewers using ad blockers

Wikia is not accessible if you've made further modifications. Remove the custom ad blocker rule(s) and the page will load as expected.