Is there a
Dual Airsoft SMG
user that ruined your fun? Looking upon some vengeance on him? This page tells how to get your revenge in the easiest way possible.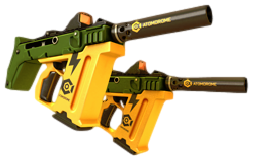 What is the Dual Airsoft SMG?
The Dual Airsoft SMG was first introduced in the Earth Day as the last tier prize. You needed 39000 points in order to claim this weapon. The event is currently EXPIRED. It is very similar to the Dual Machine Guns in stats but it has 42 rounds in a clip instead of 40.
What to Do
Ambush: If you are worried that he will kill you, simply hide behind and object and wait until he gets near, than surprise him with a devastating attack.
What NOT to Do
Run straight at the user.
Use low level weapons, like Dual Pistols.
Standing still while shooting.
Attack while injured.
What to Wear
Head: : Any Health/Agility head part.
Body:: Any Health body part.
Legs:: Any Agility legs part.
What Weapons to Use
Close Range: Any kind of Shotguns
Medium Range: Revolver, Minigun
Long Range: Any kind of sniper, Battle Ram, Howitzer Gun
Ad blocker interference detected!
Wikia is a free-to-use site that makes money from advertising. We have a modified experience for viewers using ad blockers

Wikia is not accessible if you've made further modifications. Remove the custom ad blocker rule(s) and the page will load as expected.