The Desert Helmet is the 28th head clothing in the game. It was released during the Elysium Update. It is unlocked at level 34. Costing 190

, it provides a 10% health boost.
Appearance
Edit
This mask takes on a light yellow colour (similar to the sand in a desert), with light brown splashes here and there. A brown strap secures the helmet to the head, and a red visor completes the outfit. The eyes on this head seem to be black. It also gives a lot of health despite the costs.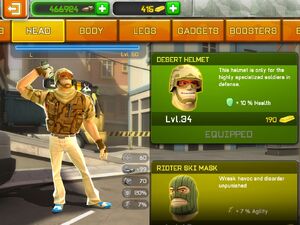 Ad blocker interference detected!
Wikia is a free-to-use site that makes money from advertising. We have a modified experience for viewers using ad blockers

Wikia is not accessible if you've made further modifications. Remove the custom ad blocker rule(s) and the page will load as expected.