The Cyber Ninja Breastplate is a body armor that was first introduced in the Ninja Path 2014 event. It boosts 10% Health to the player.
Function
Edit
This Body allows players to continuously activate the
Stealth
, but not the
Ninja Bomb
gadget's invisibility ability even after getting shot by enemies. If the user starts shooting, the Stealth will expire. Besides that, if the user was injured, the Stealth gadget will make the user invisible AND heals the user drastically.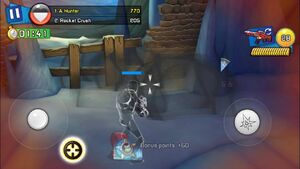 Appearance
Edit
This ninja armor takes the form of a black shirt and a gray vest or (breastplate) that protects the player's abdomen. On the front of the vest are multiple pockets of different sizes, three pocket on both sides, while on the back is a large glowing futuristic circle that resembles something out of an Iron Man comic. A pair of metal shoulder protectors supports the shoulder joints and a pair of metal bracers also protects the arms and wrists.
See also
Edit
Ad blocker interference detected!
Wikia is a free-to-use site that makes money from advertising. We have a modified experience for viewers using ad blockers

Wikia is not accessible if you've made further modifications. Remove the custom ad blocker rule(s) and the page will load as expected.