"
Classic Santa only uses the best gear during Christmas, and so should you.
"

— Game Descriptions.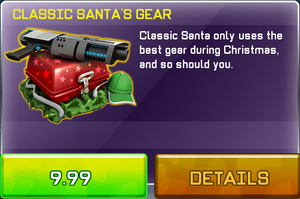 The Classic Santa's Gear is a new bundle released on the Holiday Update 2014. It currently costs $11.99

. It contains a set that provides 15% Agility and a new exclusive weapon; the Cold Beam Rifle.
Contents
Trivia
This bundle is simply a green version of the Santa's Gear, but with a pine tree desinge and a different weapon. The attribute boost is also different, which it boosts Agility unlike the previous one, which boosts Health.
When this was thrown into the Holiday Update, many people were surprised, only expecting the original santa bundle to be re-released, not to have a new gear set and weapon.
To many, this was a nice bonus to their holiday season.
This Bundle came back during Winter Camp Event.
See also
Ad blocker interference detected!
Wikia is a free-to-use site that makes money from advertising. We have a modified experience for viewers using ad blockers

Wikia is not accessible if you've made further modifications. Remove the custom ad blocker rule(s) and the page will load as expected.