"
Fight the Nian Beast and protect the New Year's feasts with this set of armors.
"

— Game Descriptions.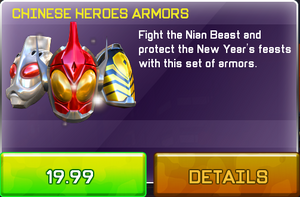 The Chinese Heroes Armors is a new limited-time bundle introduced during the Chinese New Year (Update). It grants the player three complete armors: the White Hero Armor, the Black Hero Armor and the Red Hero Armor, which greatly boosts their different stats. It was available again in the following Chinese New Year 2 (Update).
This bundle costs $19.99

(Click picture to go to their page)
This was the first bundle to contain complete armors instead of armor pieces.
The armors from this set seem to be based on the "Sentai" genre of TV series/movies, which are actually from Japan rather than from China.