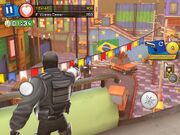 The Carnaval Update was released on 5 February, 2015, and seems the whole update had an ancient warrior theme. The buyable pack/bundle seemed to reduce 60% damage from revolver weapons (Revolver and the Dual Revolvers), as well as the Blunderbuss. This bundle also included Dual Rookie Machine Guns with a new skin: Brazilian flag themed skin.
New Features
Weapons
The Dual Rookie Machine Guns were given a new skin. This skin was only obtainable by buying the Warrior Bundle which is now removed from the shop after the next update. The Dual Rookies now are green and yellow coloured from the one half. It also has a white star in the center
Bundles
Armor
Maps
This update also brings about an update to Eastside district, painting the map in bright colors to match the Brazilian color scheme. To get more information, look here
Trivia
This update is currently the first update to introduce the skin of an Event Weapon - The Dual Rookie Machine Guns , second being the Easter Holiday Update (2015), which brought back the famous Hunter Rifle, with a new skin.
The update brought back 2 Brazilian football shirts. (Yellow and Green)
It was supposed to be an event, but was cancelled at the last moment.
The Warrior gear received very mixed critics, some raging and calling it "The Worst Move By Digital Legends", and others calling it an excellent move to promote the other weapons in the game.
Ad blocker interference detected!
Wikia is a free-to-use site that makes money from advertising. We have a modified experience for viewers using ad blockers

Wikia is not accessible if you've made further modifications. Remove the custom ad blocker rule(s) and the page will load as expected.