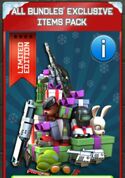 The All Bundles' Exclusive Items Pack is an armor pack released on the 24th of December 2014. It contains all of the exclusive items which are part of an expired bundles. It costs $79.99

.
The bundle is no longer available for sale anymore.
Content
The All Bundles' Exclusive Items Pack, as said above, contains all exclusive sets of armor, weapons and gadgets originating from armor packs of previous events that has expired, but it also includes items from existing bundles. The following items in this pack includes:
Trivia
The All Bundles' Exclusive Items Pack holds the most amount of items for a deal.
It is the third most expensive bundle introduced in the game.
Ad blocker interference detected!
Wikia is a free-to-use site that makes money from advertising. We have a modified experience for viewers using ad blockers

Wikia is not accessible if you've made further modifications. Remove the custom ad blocker rule(s) and the page will load as expected.